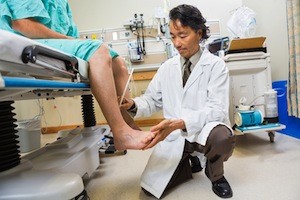 Everyone recovers from surgery differently, and Achilles tendon surgery is no exception. However, there are several general guidelines that can give you a pretty good picture of how long it will take before you can get back to normal. Here is a quick look at what you can expect.
Making Progress
The progress you make during your recovery from Achilles tendon surgery will depend on many factors, such as your overall health, the degree to which you follow your doctor's instructions and many others. In general, though, you will probably need to avoid all movement of the tendon for about 10-12 weeks. More than likely you will be able to perform a few types of aerobic exercises throughout your rehab process, but you probably will not be able to run or jump for at least six months.
You will not be able to put any sort of weight whatsoever on the foot for the first three weeks. During this time you will probably need treatment for pain as well as to reduce swelling. You should be able to gradually put weight on the foot from about 3-8 weeks after the surgery – after 8 weeks you may be able to once again wear a shoe. Your rehabilitation will probably involve a gradual increase in intensity of your exercises.
During the 8-12 week time period, you should be able to put full weight on the foot and begin to increase range-of-motion exercises. Your rehab will continue to increase in intensity during the 3-6 month time period. After about six months, you should be able to jog and run. You should be able to fully return to all activities after about 8-9 months.
Contact Us
If you would like to learn more about recovery from Achilles tendon surgery, contact the experts with Advanced Foot & Ankle Care Specialists. Contact us online or call (214) 366-4600.