Foot Surgery by Dallas Podiatrist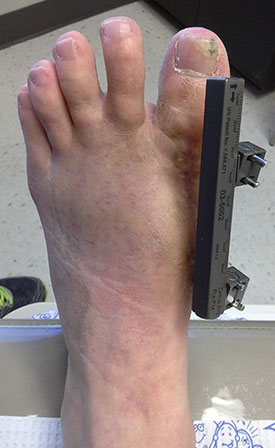 The sheer complexity of the human foot makes it a frequent cause of pain and injury for many people. Some of the most common foot surgeries in the field of podiatry, and at Advanced Foot & Ankle Care Specialists, include bunionectomy, hammertoe correction, ankle fusion, plantar fasciitis surgery and Achilles tendon surgery. We also offer ankle arthroscopy, joint replacement and reconstructive foot and ankle surgeries.
Weigh Your Options: Conservative vs. Surgical
Our experienced podiatrist, Dr. Kennedy Legel, works with each patient to find the most effective treatment plan for the individual condition. The best outcome is our first priority, so the most conservative approach is usually emphasized to resolve your symptoms of foot pain or ankle pain. Surgery is only recommended when it's the best solution.
Specialist in Foot & Ankle Surgery
Our staff understands your concerns, and we treat patients the same way we would want to be treated. Dr. Legel will discuss every aspect of your treatment plan with you, including non-surgical procedures. For those conditions that require surgery, your foot and ankle surgeon focuses on mending, not simply cutting. Full knowledge of your condition and options allows you to make an informed treatment decision in partnership with Dr. Legel and his staff.
Board-Certified Surgical Expertise
Podiatric services from Dr. Legel and his team encompass everything you need in qualified, compassionate medical care. In addition to his experience with basic podiatry, he is board certified in Foot Surgery by the American Board of Foot & Ankle Surgery (ABFAS). He is also a fellow of the American College of Foot and Ankle Surgeons, the recognized surgical specialists of podiatry.
Patients needing surgery should look for a board-certified foot and ankle surgeon like Dr. Legel, who has successfully completed the intensive certification process. The ABFAS requires foot and ankle surgeons to have four years of post-doctoral clinical experience, fulfill an approved residency, do a wide range of foot/ankle surgical procedures, and complete an extensive certification process.
Providing Surgical Procedures to Correct:
This dedication to excellence in caring for your health makes Advanced Foot & Ankle Care Specialists uniquely qualified to be your preferred podiatric surgery center in the Dallas area. Call (214) 366-4600 for an appointment to discuss foot surgery, or contact us online today.