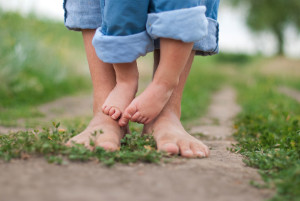 Research has indicated that children may have a heightened sense of awareness of their surroundings when they frequently walk barefoot. They may be able to notice a sharp object on the ground quicker than if they were wearing shoes, for fear of stepping on it. Many parents are concerned about spreading germs if their child walks barefoot outside, but disease is more apt to spread by hands than feet. Shoes have been known to hold bacteria and moisture, which can lead to athlete's foot. Additionally, it is said when our feet touch the earth, our bodies pick up negative electrons. This may be instrumental in offsetting the large amount of positive electrons that can come from electronic devices. There are pressure points in the feet which are connected to nerve endings. When children do not wear shoes while walking on dirt and playing outside, the entire nervous system can be stimulated. The muscles in the feet typically become stronger when shoes are not worn as the toes grip the earth. If you have questions or concerns about the benefits of your child walking outside without shoes, please confer with a podiatrist.
The health of a child's feet is vital to their overall well-being. If you have any questions regarding foot health, contact Dr. Kennedy Legel of Advanced Foot & Ankle Care Specialists. Our doctor can provide the care you need to keep you pain-free and on your feet.
Tips for Keeping Children's Feet Healthy
Make sure their shoes fit properly
Look for any signs of in-toeing or out-toeing
Check to see if they have Clubfoot (condition that affects your child's foot and ankle, twisting the heel and toes inward) which is one of the most common nonmajor birth defects.
Lightly cover your baby's feet (Tight covers may keep your baby from moving their feet freely, and could prevent normal development)
Allow your toddler to go shoeless (Shoes can be restricting for a young child's foot)
Cut toenails straight across to avoid ingrown toenails
Keep your child's foot clean and dry
Cover cuts and scrapes. Wash any scratches with soap and water and cover them with a bandage until they've healed.
If you have any questions, please feel free to contact our office located in Dallas, TX . We offer the newest diagnostic and treatment technologies for all your foot care needs.